Award-winning cheeses and butter have been produced in the Village of Thornloe since 1940
For Thornloe Cheese, sprinting to the head of the line of innovation is the result of nearly a century of hard work and tradition.
The Northern Ontario-based company is the first cheesemaker to bring grass-fed cheese to the market, and it's now earning accolades for its grass-fed butter.
For the second year running, the Royal Agricultural Winter Fair has selected a Thornloe product as one of the best products in Canada.
But don't be fooled by the national attention.
Pamela Hamel, spokesperson for Thornloe, said just a few years ago, the future looked bleak.
There were questions about whether the cheese factory would even keep its doors open.
In 2007, parent company Parmalat intended to shutter the facility, citing high costs and low profit. Nineteen jobs were at stake.
At the time, the dairy mega-giant said the area's milk quota was being "consolidated" into other Parmalat facilities.
"Local farmers in the community banded together — and we're very quite vocal — and said, 'No, we don't want the facility closed. We will buy it,'" Hamel said.
But Parmalat refused the offer, until pushback from an angry public persuaded them to sell to the group, which by then had formed a partnership with Gencor, a cattle genetics company.
After a significant funding infusion through the Northern Ontario Heritage Fund Corporation, Thornloe was able to renew the factory, upgrading its equipment, enabling it to offer more than just cheddar and cheese curds.
It also refreshed the facility's facade, expanding the grounds to make them more tourist-friendly, including a gift shop.
Gencor eventually merged with Eastern Breeders of Kemptville to form EastGen. When EastGen took over operations in 2008, Hamel said it was a "big turnaround" for Thornloe.
"That really started the whole renewal and refocus of what Thornloe produces," Hamel said. "Eastgen hired an incredible cheesemaker who created a wide variety of cheeses — the blue cheeses, bries, the famous Devil's Rock.
"He also brought Italian cheeses like Romano and Parmesan and Asiago, which has not only won numerous awards over the years, but was also an important part of meeting Canadian consumers' interest."
In just over a decade, Thornloe captured not only market share with their unique offerings, but also the public's imagination in what a Northern Ontario cheesemaker could do.
Their success at several shows caught the attention of Gay Lea Foods, who was embarking on a plan to purchase small cheese makers across the country.
In 2019, they made a successful sale pitch to buy Thorneloe.
But even with the weight of the Canadian food giant behind them, Hamel said Thornloe still runs like a small family — 30 employees now work at the facility — and doesn't stray too far from its roots, especially when it comes to the production line .
"When you do something good, why change it?," Hamel said.
That includes their unique cheddaring process, Hamel said, in which most things are made by hand.
"That's just a big part of what we do. We make curds the same way we did in 1940. It's very, very much the same thing."
Keeping the operation easy—and allowing its staff to bring their own creativity to the table—has allowed Thornloe to simplify the way they do things.
It's also allowed them to keep at the forefront of innovation. If an employee has an idea, they can workshop it quickly and get it to market to see what consumers think. And the more feedback from the public, the better.
"That's something that a lot of people don't realize," Hamel said. "We might be called a factory. But in terms of the operation, we're still very small-scale."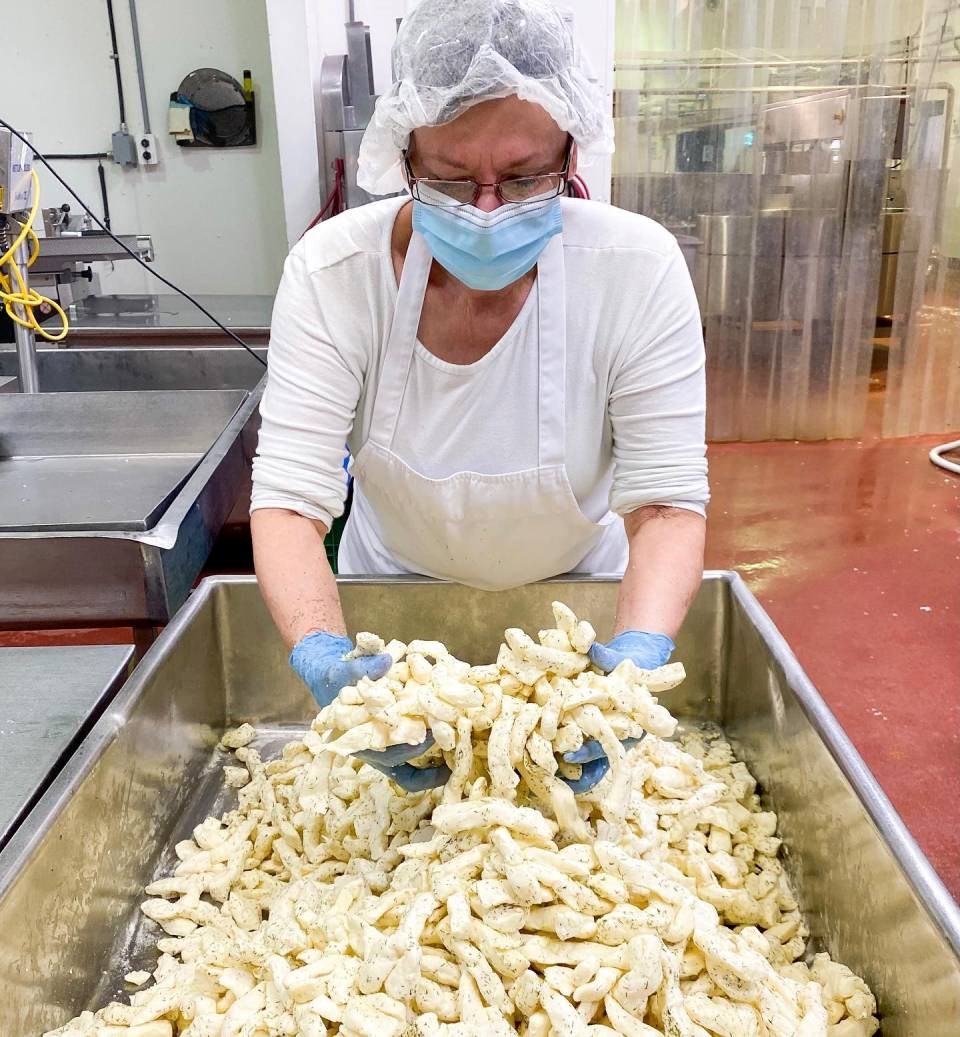 As far as connecting with new consumers and new markets—artisanal cheeses and butters are taking a slice of the province's $1.8-billion dairy industry—Hamel says a key approach for Thornoe is nostalgia.
"Food not only sustains us, but it evokes memories, feelings, and conversation," she said.
"When people think of Thornloe cheese, they think of the years gone past where they visited the factory with their parents or grandparents.
"That's what we really try to do; we get a lot of children and grandparents that visit and we really try to engage with them."
It helps that Thornloe's facility is located just off Highway 11, right in the middle of a "tourism-centric region," Hamel said, and is a common stop for hunters, anglers and people enjoying the outdoors.
"We see a lot of third- and fourth-generation hunters, who all have memories of stopping at the cheese plant and filling up their coolers to head back," Hamel said.
"So that's a big part of their experience, coming here to get a fresh bag of curds and traveling back down Highway 11."
Their community connections still run deep, going beyond catering to hunters and tourists, Hamel said.
Thornloe began creating gift baskets for school fundraisers a few years back, and groups have been seeing a margin of around 30 per cent for their efforts.
"We like to support sports and arts organizations and clubs," Hamel said. "We have a fantastic bilingual fundraising program… but it doesn't even have to be related to school, it can be adult organizations looking for a unique fundraiser. We'll have a specific program for that.
"They get this incredible haskap pepper jelly that's grown and produced here," Hamel said. "There's maple syrup, or grass-fed butter, there's cheddar curds. It's a super cool box."
Despite their connection with heritage, Hamel said Thornloe continues to push the envelope when it comes to finding the next big thing.
Although they're keeping details mum for now, the company is looking at expanding into several different ethnic-themed flavors.
It's that ethic of trying to guess the next trend, and having fun while experimenting, which spurred the whole grass-fed butter product line.
"Innovation plays into why we developed a flavor called balsamic and caramelized onion, too, because we're always looking for the next hot ticket item, what people and consumers are interested in," she said.
"These great two flavors, for example, rolled up into one cheddar stick is excellent… both on their own or topped on a burger or grilled cheese.
"It's phenomenal."